Hello out there
We will be having a Shipyard Open Studio on October 23 and 24th. I am not sure yet if that means we will be open or on Zoom. I would love for people to see my newer work. I can zoom with you anytime, can host you at my studio for private appointments and can bring paintings to you to see how they work in your space. I even sold a landscape out of the car at Walnut Creek BART which felt somewhat illicit but it was fun to get out. And while I was there, I painted a landscape of Mt. Diablo from the top of the parking garage.
Recently, I started working in oils again, hoping to loosen up a bit. It has been over thirty years since I used oil paints! I guess I stopped because the solvents were bothering me, but I am not using any solvents at all now. The paintings are looking pretty much the same—which seems surprising. Colors are looking very good.
In the studio, I am working on a figure painting (!) which I am super excited about. Figure paintings scare me, so this one is taking awhile. I am painting smaller items at home. My rabbit is elderly and I hate to leave him. A neighbor gave me two huge bags stuffed with beautiful stuffed animals. After I paint the toys, I'll be passing them on to needy children.
My bear and mountain lions paintings are out for exhibit at Opera Plaza, if you happen to go over there, and a lot of still lifes are at the Goodman 2 building.
If you would like, I am always happy to do portraits of you, your family, your pets, your view, or a still-life of your favorite objects.
>>Click here for directions to the studio: Building 101, Studio 1223. GPS: 451 Galvez Avenue, San Francisco.
I've drawn political cartoons since 2016. Follow me on >>Facebook, Twitter, Instagram, or view cartoons at the >>Laugh About It website. I released the collection as a book when I accumulated a large number of cartoons, but I'm still drawing cartoons constantly, and Volume 2 will follow at some point. Read the book at my studio or buy at any bookseller and amazon.
Carolyn Crampton
San Francisco
crampton@cramptonarts.com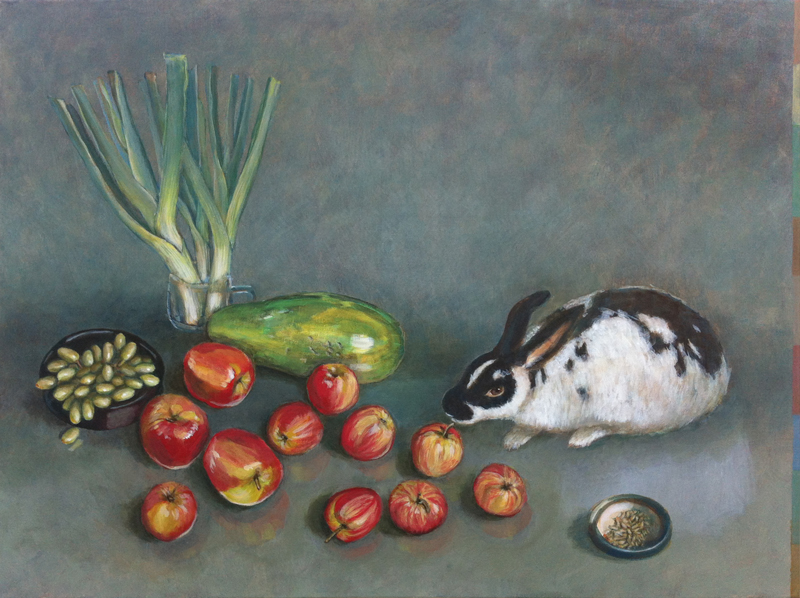 Still life with Papaya and Rabbit, acrylic on canvas, 30"x40"x2"