NEWS
Crampton's painting "Still life with Toys and Snoopa" was accepted into the national Juried show "Art of the Toy" at Arts Benicia juried by Tony Natsoulas, from December 3 through December 18. Reception on Saturday, December 3 from 2 to 4pm.
Crampton released Ladybird: My Eight Lives in 2016. It features 80 color drawings. It is available at Christopher's Books on Potrero Hill and RabbitEars in El Cerrito (where ALL proceeds go to help this wonderful animal shelter). See more information under the "books" tab.
The Easter book Dumbunny is now on Kindle—for free! If you download it, please give us a review!
Crampton is a member of Daylighted.com which exhibits art digitally and sells glicées of art.
The studio will also be open to the public again for Spring Open Studio Saturday and Sunday, April 22 and 23 from 11 to 6pm. [Click here for directions to the studio: Building 101, Studio 1223. The studio is behind the main flagpole.]
Carolyn Crampton
San Francisco
crampton@cramptonarts.com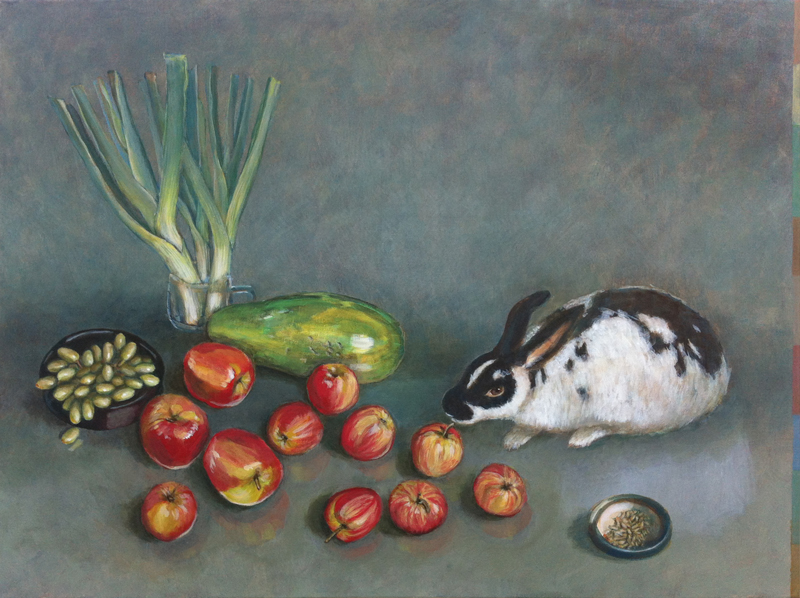 Still life with Papaya and Rabbit, acrylic on canvas, 30"x40"x2"