News for this art season...
Thanks to everyone who came to our first virtual events at the Shipyard and elsewhere. We are learning! I can zoom with you anytime, can host you at my studio for private appointments and can bring paintings to you to see how they work in your space. Also, I am always happy to do human and pet portrait commissions.
Visit the JCO's ArtHaus Gallery Art Show!
OCTOBER 22 TO OCTOBER 25, 11AM TO 6PM Features nine paintings from my stiff life with animal series at JCO's ArtHaus Affordable Art Show in Los Gatos in a blow-out warehouse sale. The place has a wide open side so there's lots of ventilation. They are open, safely, for visitors and the show looks really good. You can also schedule a private visit. And there will be an online component. See jcosplace.com for more info. It was delightful to visit a friendly gallery and see art up close!
In the studio, I am working on a figure painting (!) which I am super excited about and another odd painting. A neighbor gave me two garbage bags full of beautiful, almost new, stuffed animals. (After I paint some of them, I'll be passing them on to needy children.)
>>Click here for directions to the studio: Building 101, Studio 1223. GPS: 451 Galvez Avenue, San Francisco.
I've created political cartoons since 2016. Follow me on >>Facebook, Twitter, Instagram, or view cartoons at the >>Laugh About It web site. I released the collection as a book, because of the quantity of drawings, but I'm still drawing daily and Volume 2 will follow at some point. Read the book at my studio or buy at any bookseller and amazon.
Carolyn Crampton
San Francisco
crampton@cramptonarts.com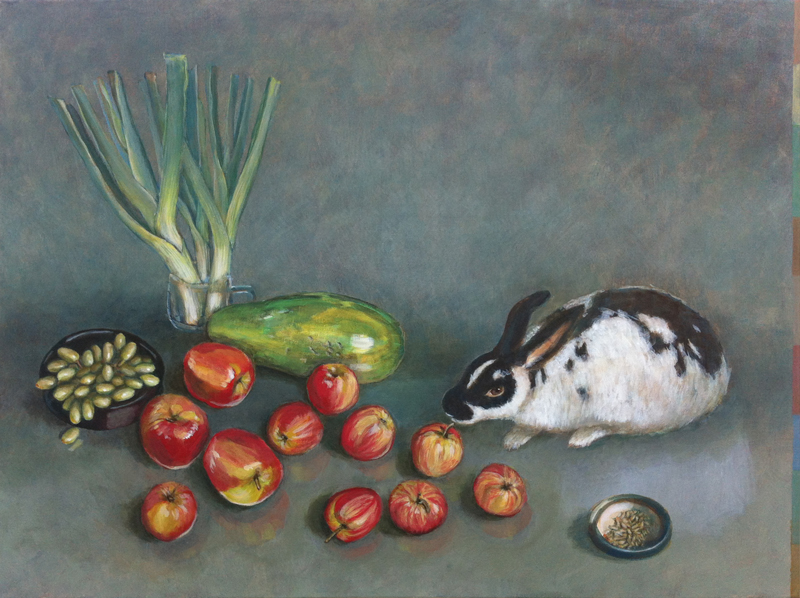 Still life with Papaya and Rabbit, acrylic on canvas, 30"x40"x2"